If gardening is a big part of your life in spring, summer, and fall, the arrival of winter gifts you with a lot more free time in your schedule. What's a gardener to do?
Read voraciously!
Or, at least, that's what this gardener does.
Winter is the opportunity for us to step back from our gardens and try on some new perspectives. And the best gardening books help us do just that. Every garden writer has a different approach to the craft and their books invite you into their world for a bit.
We gardeners are visual people! That's where a gorgeous coffee table book is the perfect choice. One that's packed with plenty of eye candy will inspire you to dream about new designs and ideas for your garden.
And you can balance those out with the practical, educational books so you can delve more deeply into the new skills you want to develop next season.
As for me, my favorite winter activity is sitting in front of my woodstove with my feet up close to the fire and a book in my hands. There's no better way to spend a dark and frigid evening in Wisconsin in my opinion.
Since winter is the season of reading, I thought I'd share all-time favorite organic gardening books. Request them from your neighborhood library, make a trip to your local bookstore, or order them online without leaving your home.
Then curl up in your favorite chair with a cup of tea and a cozy blanket. The woodstove is optional!
This post contains affiliate links.
The Best Books for Garden Lovers
I love books! I have more titles on my "to read" list in Goodreads than I'll probably ever get to since I keep adding more every month. I just checked, it's up to 672 books right now. (Want to connect on Goodreads? Find me here.)
That being said, my husband often jokes with me that I hate books. That's definitely not accurate, but it is true that I own very few books. I'm a bit of a minimalist and I don't like a lot of clutter. I don't purchase a book unless I really, really love it and think I'm going to refer back to it over and over again.
That means the books on my shelves primarily consist of gardening and cookbooks. The following list of best gardening books is a serious one. These are the exact books I have on my own shelves!
Vegetable Gardening
Smart Start Garden Planner: Your Step-by-Step Guide to a Successful Season
Over the years I've learned that the most successful gardeners take some time before the garden season begins to devise a simple and smart plan for the year.  These gardeners are the ones who grow lots of vegetables very successfully.
Gardening planning doesn't have to be boring or take a lot of time. My latest book is a fresh and simple approach that keeps planning practical, down-to-earth, and fun!
You'll work through your plan step-by-step, and at the end, you'll have a personalized blueprint for what a successful season in your garden looks like. Grab your copy here.
The Year-Round Vegetable Gardener
If you've been dreaming about harvesting food from your garden throughout the winter, this book is for you. Niki Jabbour, the author, is one of the people who inspired me to really commit myself to
experimenting with extending the season
in my own garden.
She lives in a cold climate in Canada, so if she can do it, you can, too! And as a bonus, if you follow her on social media you'll be treated to lots of photos of her snowy, winter garden and the produce she's harvesting from it. Read some of the great reviews about her book 
here.
Growing Beautiful Food
By now you probably know that in addition to having a garden that produces a lot of food, I also want my garden to be
a gorgeous part of my landscape
. I was intrigued by this title because I don't often see other garden writers talking about the aesthetics of growing vegetables.
Matthew Benson runs a small, specialty CSA in upstate New York and is also a garden photographer. The book is a visually striking one to hold in your hands. It's the perfect eye candy for a gray winter day.
Read more about it here.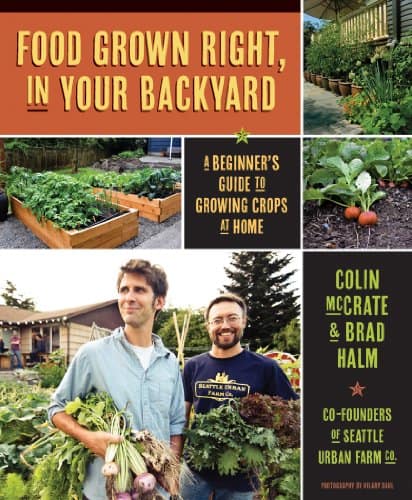 .Food Grown Right, in Your Backyard
This book was written by the two guys who run the Seattle Urban Farm Company, a business that designs, installs and maintains restaurant and home gardens in that area. They have an organic farming background and their approach to growing food is very similar to mine. I agree with most of the advice and information that they give throughout the book, and they present several topics in some fresh, new ways.
Find it here.
.

Vegetables Love Flowers, by Lisa Mason Ziegler
My favorite gardening book from several years ago is a holistic view into why and how mixing flowers in with our vegetables benefits not only us, but our plants and the animals and insects that are a part of our garden ecosystems. Sneak a peek inside the book here.
.

Veggie Garden Remix, by Niki Jabbour
A book after my own heart! I love experimenting with fun new vegetables and varieties and this book gave me some great ideas of alternatives to try out next season. Get your copy here.
.
Edible Rainbow Garden
Rosalind Creasy is pretty famous in the gardening world. She's one of the first people who wrote about edible landscaping and she has a passion for growing beautiful vegetables. A woman after my own heart!
If you've been thinking about incorporating more colorful and interesting vegetables into your garden,
check out this book
,
 or one of her many others.
.
Edible Landscaping with a Permaculture Twist
Permaculture has been a buzz word in the gardening world for over a decade, but it's a big topic and can be confusing to gardeners. This book breaks down different ideas in permaculture and translates them into concrete projects you can create in your own garden.This is the book that inspired me to build my
front yard herb spiral
.
It's one of the most asked about features of my garden.
Find this book here.
.
.
.
.
 

New Books to Watch Out For
There are a few books coming out soon that I'll definitely be ordering!
.
Preserving Food
Hopefully, you have an amazingly productive year of gardening and have a kitchen full of produce as a result! I'm not a huge fan of canning, so I tend towards much easier and quicker methods of preserving food. I even wrote a book about them!
.
Growing Flowers
Growing food was my original passion, but when we bought a house my husband and I started to play around with perennial and flower gardening. The vegetable garden is largely my domain at our current house, but together we design, plant and maintain our various plantings of trees, shrubs, and perennial flowers. These are some of my favorite books I've learned from along the way!